When I was a very little girl I noticed that my mom always traveled with her pillow.  In fact, she had a small red suitcase just for her pillow!  Now as an adult I too travel with my pillow.  I find it gives me a sense of comfort and a piece of home wherever I go.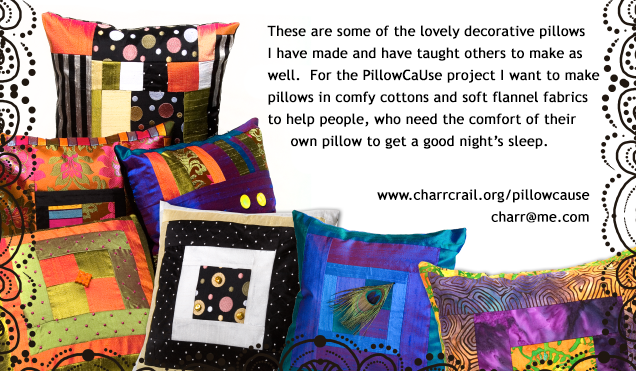 I've been watching the news and feeling such sadness for the thousands of misplaced people, the pets who have been lost and found and so many without the safety and comfort of their lost homes.  I couldn't help but wonder what I could do.
So many things are being done to help people— food, water, clothing donations of all kinds.  In fact one friend of mine is gathering and donating palettes of bottled water and driving it to Texas to help people in need.  Maybe he inspired me too.  My husband and I are here safe in our Sacramento home while so much is going on in our country and the fires and the storms and we are lucky here.  The worst I can complain about is the heat and if there's a fan in the room I'm just fine.
Thinking back to when the tragic events of 911 happened I remember vividly a feeling of helplessness while so many suffered in NYC.  I feel the helplessness right now— so this is something I want to do, something I can bring— Comfort and maybe a sweet dream to someone who needs it– I think maybe a pillow can help.  Pillows can give people who need something to hold onto, a comfort that's theirs and just for them and make such a huge difference. 
A personal story: I lived in Madrid, Spain for a brief time when I was 17.  I still remember vividly a pillow experience I had there.  I had arrived to stay at a friends apartment.  This welcoming friend didn't have much but what she had she shared freely.   There were four of us sharing a very tiny room, and three of us, myself included, were without beds.  I didn't have a pillow either.  It was October and I had a coat I adored, which ended up being my pillow.  It was cornflower blue suede with a white and black tipped fake fur trim. Funny how I still remember those small details.  I'll never forget how glad I was to feel it all bunched and rolled up just so under my head.  That wonderful coat served as my pillow more than a few times during the three memorable months I lived there in that apartment building on Avenida de José Antonio.
The simple act of having a familiar place to lay your head down onto something soft, that you can smush into place so it feels just right before you drift off to sleep is a wonderful thing.  My coat was a great stand in but a good pillow is a comfort like no other. 
So I came up with an idea so I could help in a very personal and meaningful way using the love and skills I have for creating–  I'm calling it "Pillowcause".  I love to sew.  I've been an avid and active pillow maker for many years.  I've even taught classes in how to make pillow covers.  I've made dozens of them but now we are talking dozens, hundreds, or thousands and I could use assistance even launching this project.  If you are like me and would like to find a personal way you can help people have some sweet and much needed comfort please consider helping me in this PillowCause.
I'd like to get this off the ground and I need help.  I'm looking for people willing to sew, fabric donations, thread, notions and a willingness to give a small bit of time to make and assemble the pillows.  I'm starting locally here in Sacramento and am at the very beginning of this.  I'm still figuring it all out but I'm good at ideas so it won't be long before I've got a plan in place.  Are you with me?  Please consider helping me with bringing this dream closer to fruition.  If you'd like to help please email me at charr@me.com.
If you want to help but would rather donate money instead of time or materials that's wonderful too.  Please use this PayPal link to donate anything you like.  Fill in any amount because it all adds up.  Thank you so much in advance for reading and considering this PillowCause project, offering time, materials or a donation.
Best, Charr