So excited to announce my SUMMER WORKSHOPS 2014!
The first two summer workshops have been scheduled! (There are a couple more workshops coming too–Retouching and an iPad class! I'll be keeping you posted the moment the dates are announced on those as well.)  
It's been kinda awesome on my end developing and fine tuning these courses.  I never tire of the creativity Photoshop offers and love teaching it to others so they can experience the same kind of delight in the artistry and practicality of this powerful tool.  My personal commitment is to get you comfy from the bottom up with this tool and all you can do with it– from the basics of making a picture look good to the fabulous realm of artistic expression that is possible. 
As with all of my courses my aim is to share everything I know to help you learn and apply the tools and these courses are carefully crafted to do just that.   You can visit the main Workshop page to see the courses currently listed.  Below you'll find links to the specific pages for the ones currently scheduled.  If you have any questions at all please get in touch and I'll gladly answer any question you have.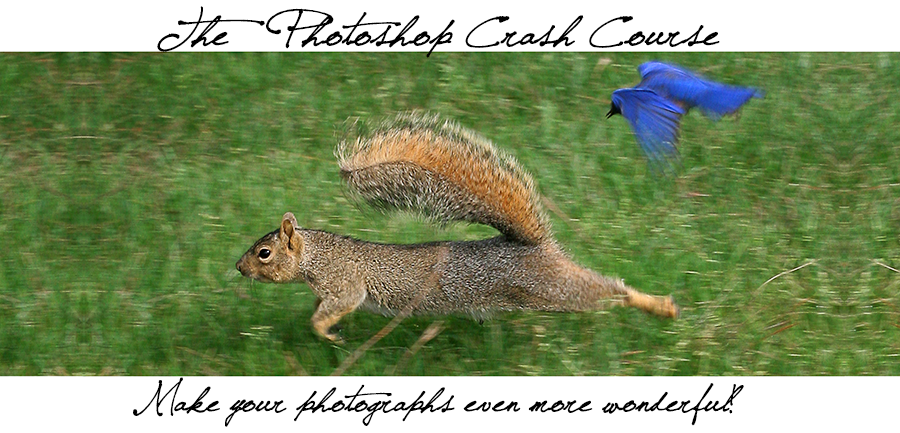 The Photoshop Crash Course– This is a three session hands-on course designed to give you a deep dive into the fundamentals of Adobe Photoshop, it's interface, tools and practical application. You'll learn the useful tools needed and how to make your pictures look great whether you are printing them or posting online.  This course is broken into three parts to make it easier to learn, to practice and retain all the rich information you'll be receiving in this really fun hands-on class.  You'll experience and discover many wonderful new ways you can enhance your photographs!  Elements users welcome too!  Visit the Workshop Page to learn more about this great entry-level course.

Graphic Design & Layout in Photoshop.  This three session hands-on course is specifically designed and paced to give you easy entry into the incredibly useful and increasingly important world of creating great layouts using Adobe Photoshop and all it's wonderful built in tools of the trade.  Photoshop isn't just for making pictures look good.  It has a vast set of tools for the designer in you and you can access and create more than you may have dreamed of right there.  Visit the Workshop Page to learn more about this really amazing and useful course.