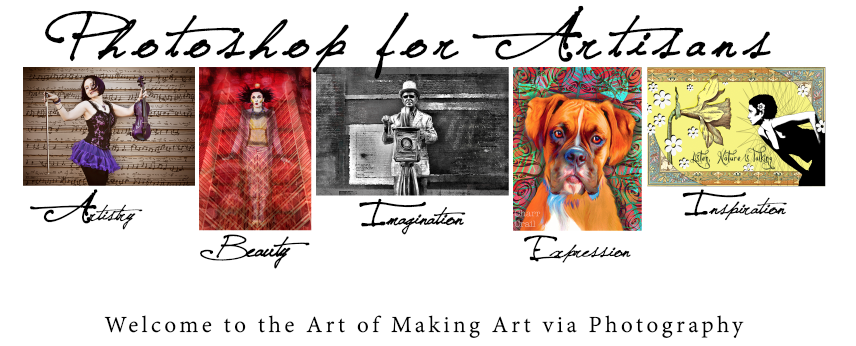 PHOTOSHOP FOR ARTISANS
You've got artistic sensibilities and you love photography.
Now, let's take you to the next level!
This class is for anyone who is creative and loves to learn how to make art out of their photography.  It's also a great way to learn advanced techniques including masking, compositing, blend modes, layers and much more.
About the Workshop:  This is a Hands-On Photoshop workshop that delves deep into the art of making art via photography. Learn first hand the magically simple techniques Charr uses to create her own one-of-a-kind imagery that sizzles. This is an artistic journey from start to finish where you'll be creating your own fully realized and uniquely beautiful art piece. It covers a variety of fun ways to add artistic flair to your images. During this three night course you'll develop a deeper relationship with layers, masks, filters, textures, brushes and text.
Who is it for: This workshop is for anyone with a working knowledge of Photoshop who wants to get more creative with it. This workshop is for artists, designers, creatives, photographers— pro or hobbyist— who are looking to add unique appeal to their photos and add to their digital skill set. If you know what a layer is and can make a selection then this class is for you! (If you don't yet know Photoshop basics and want to learn take my Crash Course and get ready to be delighted with all the wonderful things you can learn and do with Photoshop.)
What you'll need: You will need a working knowledge of Photoshop, a computer/laptop running Photoshop (ideally CS5 or later) and a desire to create something inspired! All the assets you will use in the class will be provided.
This course includes all three nights of hands-on instruction, Course Workbook, Digital Assets (Charr's own brushes and textures), Snacks and fun!
Cost: Photoshop for Artisan's Workshop (Three Night Course)— $197
WANT MORE THAN JUST THREE SESSIONS?  Interested in a wonderful follow up to the Photoshop for Artisans class?  Then you will want to check out The Artisans Lab, a perfect add-on for anyone wanting to go even further with their artistry.  Each class begins with a brand new artistic demo and gives you opportunity to practice and deeply embed all your new knowledge.  The Artisans Lab is also a three night workshop so if combined you get six weeks of ongoing Photoshop instruction and experience in the extraordinary new artistic realm this course offers.  You can learn more details on The Artisans Lab page.
If you have any questions at all or want to be sure which course is the right one for you please feel free to contact Charr at:
email: charr@me.com
Phone: 916-672-8423